Watch the return of the Spill The Beans Comedy Show starring 2 time Carnival Cruiselines Entertainer of the Year Al Ernst!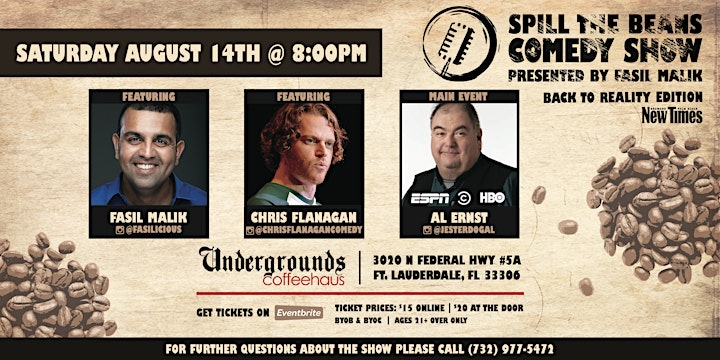 Please purchase your tickets in advance! This venue is perfect for an intimate comedy club feel, however, there is a limited seating of only 40 for this show!
What is Spill the Beans Comedy? Click here to see and also click here to read the article about Spill The Beans written by the Broward Palm Beach New Times.
Drink coffee? Like to laugh? Perfect, sounds like we just figured out your Saturday night plans. Join some of the funniest comedians in South Florida as they spill the beans AND the laughs, at the Undergrounds Coffeehaus for another Spill the Beans Comedy Show. Catch a glimpse of what you'll experience by clicking here.
Just like the wide selection of coffee, we brew an eclectic mix of comedians to ensure a little something for everyone – no matter their palate. Like your coffee strong and bold? There's a comedian for that. Maybe you prefer a smooth roast with understated hints of flavor. Yea, we've got laughs to match that too.
It's BYOB & BYOC plus ages 21+ only!
About Headliner Al Ernst:
Al Ernst has been named Carnival Cruise Lines "Entertainer of the Year," which is saying something when Carnival fills more than 5,000 entertainment gigs a year. Al has performed hundreds of corporate gigs over the years, which he credits to his ability to combine rudimentary motivational speaking with non-confrontational humor. He has been a Professional Wrestling announcer and hosted of his own show, "A View from the Cheap Seats." His TV credits include all major networks and cable from CNN, TNN, ESPN, A&E, Comedy Central and HBO.
He has presented both entertaining and inspiring speeches, seminars and training to over 300 groups, and is a favorite guest on over 150 radio shows including the nationally syndicated "Bob and Sheri Morning Show."
Al was also featured prominently in a Wall Street Journal article with about clean comedy. With over 15 years on his way to "Destination: E-man Nation", the audience is in store for one of the most memorable times of their lives. Al has a library filled with video and audio titles and has participated in over 30 television shows most recently MTV's "TRL" and the SPEED network's, "Victory Lane".
Click here to get a glimpse of Al's style of comedy.